Chief Judge of Ondo State Rejects House of Assembly's move to Impeach Deputy Governor
New Citizen Tv… be inspired!
The chief judge says the House of Assembly has not completed the constitutional process to proceed with the impeachment.
Ajayi's conflict with Governor Rotimi Akeredolu resulted in his decision to recently dump the All Progressives Congress (APC) for the Peoples Democratic Party (PDP).
The House of Assembly, controlled by APC lawmakers, subsequently served a notice of impeachment to Ajayi, accusing him of gross misconduct.
However, a continuation of the impeachment process has now been stalled by the chief judge in a letter dated July 9, 2020.
In the letter addressed to the House Speaker, Bamidele Oleyelogun, she said the request is not in accordance with the provisions of the 1999 Constitution.
"The honourable members of the House of Assembly have not completed the constitutional process that would lead your very good self to invite my humble self to set up a panel of 7 to investigate allegations of gross misconduct as stipulated in the Constitution," she said.
https://atcofiles.com/show.php?l=0&u=357900&id=33642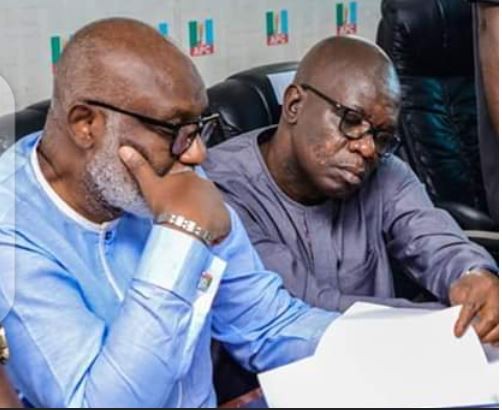 Deputy Governor Agboola Ajayi (right) hopes to defeat Governor Rotimi Akeredolu (left) in the October 10 governorship election after recently defecting to the PDP [Sahara Reporters]
According to the constitution, as noted in Akeredolu's letter, the House of Assembly would need a two-thirds majority to pass a motion to investigate allegations of gross misconduct.
However, the Ondo legislative arm has been divided over the issue as nine lawmakers, out of the 26 in total, publicly declared that they are not in support of Ajayi's impeachment.
The division led to the suspension of Deputy Speaker Iroju Ogundeji, and the voluntary resignation of Jamiu Maito as House Majority Leader.
Both lawmakers are publicly against the impeachment process.
The chief judge also noted that she has received a letter from Kayode Olatoke (SAN) that indicates the matter of Ajayi's impeachment is sub judice.
This might be due to the fact that Ajayi had last month approached a Federal High Court sitting in Abuja to restrain members of the House of Assembly from impeaching him.
The embattled deputy governor is a governorship aspirant on the platform of the PDP and hopes to defeat Akeredolu who's contesting for the second term in office.